The Thai industrial Hemp Trade Association (TiHTA), in collaboration with Neo, is organizing the "Asia International Hemp Expo and Forum 2023," bringing together technology to support 14 key industries and embracing the "ESG" concept to propel the Thai hemp industry to become the center of Asia.
Mr. Surapol Uthintu, CEO of NCC Exhibition Organizer Co., Ltd., and Mr. Pornchai Padmindra, President of Thai industrial Hemp Trade Association (TiHTA), shared insights.
Did you know? The market value of hemp and cannabis in Thailand in 2022 was worth 8,482 million baht, and it is expected to grow to 73,447 million baht by 2027. This aligns with data from Fortune Business Insights, stating that the value of the hemp fiber market in 2022 stood at 6.6 billion US dollars and is expected to reach 31.92 billion US dollars by 2030. Currently, Europe holds the largest market share, followed by the United States, with the countries having the most extensive hemp cultivation areas being China, Canada, and the United States.
After the legalization of medical cannabis and hemp on June 9, 2022, in Thailand for medical and health benefits and for adding economic value, the Thai Hemp Trade and Industry Association (TIHTA) aims to be the center of cooperation to assist, promote, and support its members to smoothly drive their businesses. We provide knowledge and understanding to our members and to interested outsiders to pass on knowledge, facilitate collaboration among organizations, government agencies, and various private companies, both domestically and internationally, to stimulate economic and industrial momentum leading to the stability of hemp operators in Thailand," said Mr. Pornchai Padmindra, President of the Thai Hemp Trade and Industry Association. He spoke about the role of the association and the significant progress of this industry for Thailand and the region.
Today, when asked about the situation of the Thai hemp industry, Mr. Pornchai elaborated interestingly that the Thai hemp industry has grown and has a strong foundation, having set industry standards since 2021, encompassing six dimensions, namely:
1. Hemp seed oil
2. Hemp extracts with no less than 30% total CBD
3. Hemp extracts with no less than 80% total CBD
4. Hemp husk
5. Hemp stalk
6. Hemp fiber
This is to establish a standard for the use of raw materials from cannabis in various types of industries. Currently, there are industries emerging that are linked to cannabis in more than 14 industrial categories, especially important industries such as medicine, food, beverages, dietary supplements, cosmetics, pharmaceuticals, automotive, construction materials, and even the pet industry. Importantly, the growth of the industries and businesses related to cannabis in Thailand in the past years has expanded within the framework of regulations and legal certifications, in aspects of the industrial chain, including cultivation, extraction, and product manufacturing.
Mr. Pornchai continued that data from the cannabis cultivation application shows that there are more than 1.1 million registered growers, and data from the Food and Drug Administration and the Department of Thai Traditional and Alternative Medicine shows that there are up to 11,348,882 square meters of cultivation area. For extraction licenses, there are a total of 89 locations, divided into 41 cannabis extraction licenses, all of which are government agencies, and 48 hemp extraction licenses, with 39 private entities and 9 government agencies. For end-product, data retrieved from the health product database that contains cannabis and marijuana as ingredients from the Food and Drug Administration shows that there are over 1,000 product registrations, divided into cosmetics (77%), food and supplements (19%), and herbal products (4%). Importantly, data from Euromonitor shows that the market value of cannabis and marijuana in Thailand in the year 2022 was 8,482 million baht, and it is forecasted that the growth in 2027 will reach a value of 73,447 million baht.
Given this importance, the association has been working with all sectors to create opportunities for entrepreneurs to add value through innovation, such as elevating products by using cannabis extracts as ingredients in widely used herbal remedies, to name one example. One significant collaboration is being a part of the 'Asia International Hemp Expo and Forum 2023′ or the international exhibition of technology, innovation, and products derived from cannabis, in conjunction with N.C.C. Exhibition Organizer Co., Ltd. (NEO). This is in line with the sustainability of the Sustainable Development Goals (SDGs), the United Nations' (UN) sustainability targets, including aspects of health and well-being, accessible clean energy, ensuring sustainable production and consumption patterns, and strengthening global cooperation for sustainable development.
Mr. Surapol Uthintu, Managing Director of N.C.C. Exhibition Organizer Co., Ltd. (NEO), stated that the Asia International Hemp Expo and Forum 2023 is the first of its kind in Asia, showcasing technology, innovation, and international hemp products. It serves as a business opportunity hub for industry professionals from around the world. The previous event was well-received, attracting visitors from over 80 nations and generating over 5,500 million baht in trade value from participating businesses, ranging from cultivation, raw materials, processing, to end-products ready for sale. The products are screened under standards that particularly focus on the industrial and medical sectors.
This year, it is expected that the event will attract no less than 10,000 visitors and generate a turnover of no less than 8,000 million baht. The Asia International Hemp Expo and Forum 2023 will present technologies and solutions in 14 major industries, adhering to the BCG (Bio-Circular-Green) economic model, promoting sustainable environmental care, and facilitating business opportunity negotiations between Thai industrialists and international investors, positioning itself as the center of the hemp industry in the region.
Additionally, the event will feature a showcase from all industry categories, including cultural applications and art crafted from industrial by-products in the 'Hemp for Living' zone by world-renowned Thai artists, propelling Thai hemp to inspire and foster economic foundations. Moreover, this year's event includes an academic seminar section of the International Hemp Forum with experts from more than 12 countries in various industry-related fields sharing comprehensive information and experiences.
Importantly, at this event, we have allocated special space for exhibitors, businesspersons, entrepreneurs, and investors to meet and conduct business discussions during the leisurely business atmosphere in the 'At 6pm' Networking Zone within the 'Asia International Hemp Expo and Forum 2023'. The event is scheduled for November 22-25, 2023, at the Sirikit National Convention Center. For this occasion, everyone is invited to register in advance as there will be screening for attendees, and walk-in visitors will incur additional entrance fees. Interested parties can find more information at www.asiahempexpo.com.
With experience and expertise in the hemp industry from two organizations, we believe that this collaboration will be a good starting point to 'promote' the hemp trade industry in line with government policies and extend cooperation in various dimensions, including government agencies, medical institutions, the private sector, and the public. Significantly, we hope that Thailand's hemp industry will grow and expand, contributing value to Thai society and economic opportunities in the region, concluded with a confident smile.
Dr. CBD approaches to Promote a Sustainable Economy
Our business was initiated to find a sustainable solution for people's lifestyles from the ground up.
We view sustainability as going beyond ESG (Environmental, Social, and Governance criteria) and have a deep understanding of all aspects of the SDGs (Sustainable Development Goals), particularly:
Good Health & Well-being: Emphasizing Preventive measures over Curative ones.
Affordable & Clean Energy: Utilizing Industrial Hemp for energy (Hemp Graphene, Hemp Battery, Hemp Biomass).
Responsible Consumption & Production: Prioritizing Nutraceuticals over Pharmaceuticals.
Partnership: Connecting knowledge and innovation with others.
We are committed to supporting long-term sustainability, starting at the core of our current business operations and what we plan to expand in the future.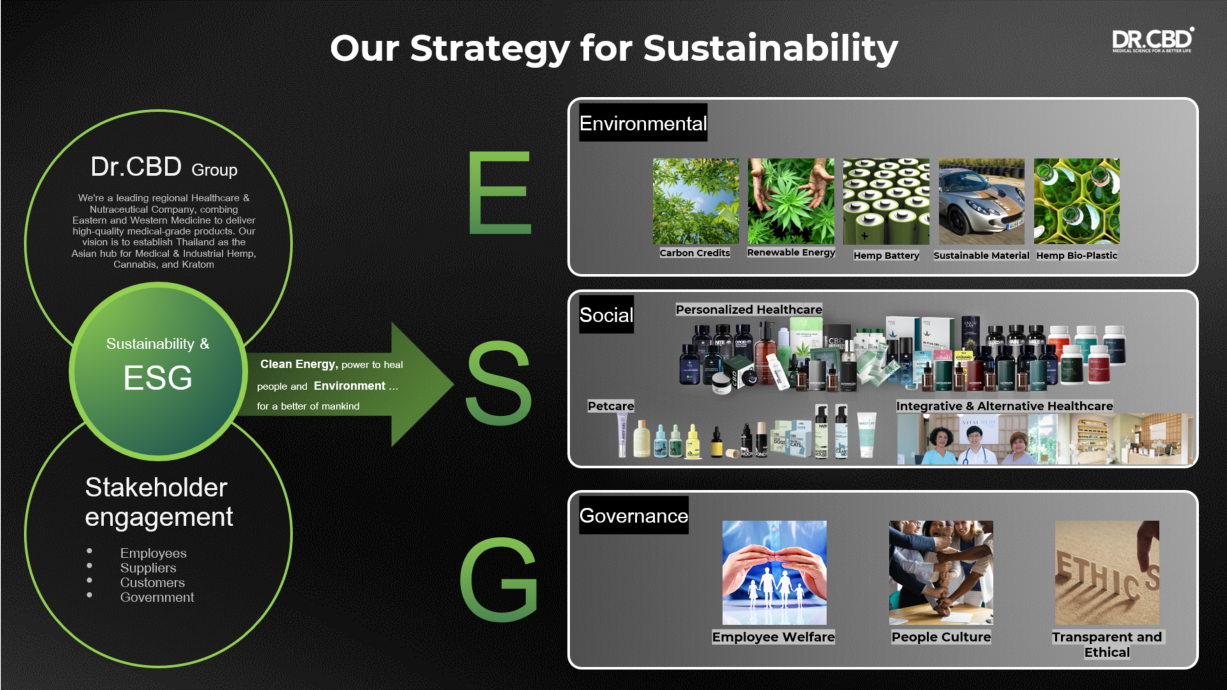 Dr. CBD focuses on social, environmental, and governance aspects by:
Using ESG as a key metric within our business plan for every decision. For example: 
Environment: We innovate by transforming cannabis into clean energy sources like EV (Electric Vehicle) batteries and alternative materials to plastic, extending to construction materials and vehicles, which reduces pollution from planting to production, usage, and disposal.
Social: We already take responsibility for our consumers through our production standards (focusing on 3 principles – Safety, Consistency, Efficacy). We want consumers to sustainably maintain their health without relying on medicines, hence we emphasize "Preventive over Curative."
Governance: We adhere to governance principles focusing on transparency and professionalism from the company's structural setup, oversight, and management, to the treatment of all stakeholders, including employees, customers, partners, and shareholders.
Collaboration with both government agencies and private sectors regarding cannabis, hemp, and kratom products could lead to innovations that address sustainability in what ways?
Creating a comprehensive sustainable solution for society is a large-scale task that requires standards, oversight, knowledge, and support from various parties. It's not a solo effort. Therefore, we establish partnerships with both governmental and private sectors, domestically and internationally, to ensure our approaches are effectively delivered to consumers.
For instance, integrating traditional Thai herbal medicine practices with standardized Western medical knowledge through extensive research and trials by university experts, and quality assurance by government agencies, allows consumers to access and trust in preventive health care. This collaborative research also generates knowledge that can be further developed into various pharmaceutical innovations.
All these are subsets of creating a deeply embedded sustainable business structure aiming to shift consumer perspectives and social behaviors towards maintaining their own health sustainably, focusing on prevention rather than cure, and relying on natural remedies rather than chemicals. This will contribute to reducing long-term medical expenses, unnecessary resource consumption, and environmental and social pollution emitted into our world.