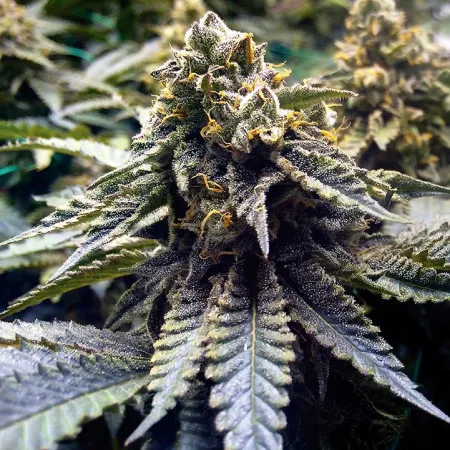 Cinnamon Buddha OG, the fusion of two elite clones of the OG Kush family
Presumably, OG Kush was created from a cross between Chemdawg and (Lemon Thai x Hindu Kush), and over the years it has become one of the most appreciated genetic lines in the world. Used as a parent in countless hybrids, the results are always exceptional, which has made it one of the most used plants for creating new crosses.
In the case of Cinnamon Buddha OG, a clone from Florida called Triangle OG has been used as a female, named after the trio of cannabis capitals of this state, Tampa, Miami and Jacksonville. The other parent used, in this case as a pollen donor, has been the famous Fire OG, a cross between the renowned Raskal's OG Kush and the no less popular SFV OG Kush. A genetics known for its powerful effect that can be found in many other hybrids.
The result of this cross is a variety that exemplifies some of the most valued and desired traits of OG Kush genetics: vegetative vigor, high resin production , intense and complex flavor and a strong relaxing effect.
As would be expected from its name, Cinnamon Buddha OG produces strong scents of spicy cinnamon with pine, nutmeg and lemon pepper with some earthy, citrus undertones, the latter being typical of OG strains. THC levels are very high at 21 – 24% with low CBD of 0.1%. A strong body effect provides long-lasting relaxation and calm. Highly recommended for evening use and for pain relief. Also recommended for a great night's sleep.
Sex: Feminized
Lineage: Triangle OG x Fire OG
Genotype: 85% Indica / 15% Sativa
Preferred Climate Conditions: Dry arid / Mountain Desert
Flowering Duration (indoor): 63
Harvest Period (Long term outdoor): Mid – October
Outdoor Height: up to 15 ft. or 4.5m
Yield Outdoors: 6 – 8Lbs + per plant or up to 4000+ grams
Yields Indoors: 400g – 450g per Sq meter
THC: 21 – 24%+
CBD: 0.1%