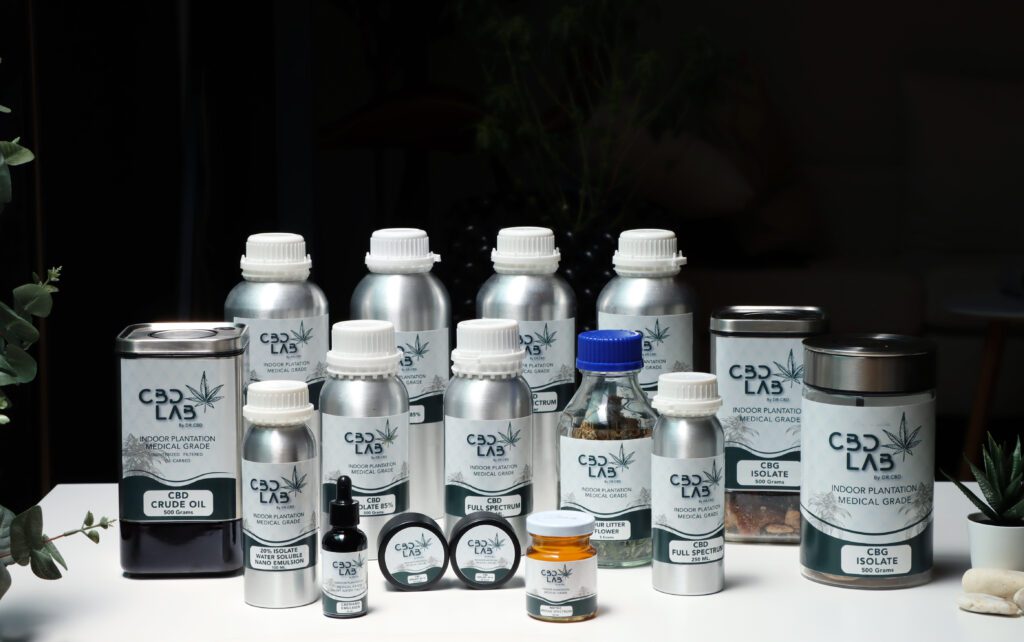 Full Spectrum CBD, Broad Spectrum CBD and CBD isolate to determine the type of CBD used in the product. Each category shows the key factors to consider. Understanding the differences between these types is essential for every CBD user. Let's start by discussing the influential factors in determining which of these CBD cannabinoids are. (cannabinoids)
What Are Cannabinoids, and Why Do They Matter?
In cannabis plants, there is a classification of compounds known as "Cannabinoids" (cannabinoids), which in the cannabinoids group is CBD and THC, along with other compounds. Hundreds of other species that scientists have discovered naturally occur in different strains of cannabis and this is why they are so important today. In 1995 a team of researchers discovered that by interacting with receptors in the endocannabinoid system, (Endocannabinoid System-ECS) in the human body. cannabinoids Cannabinoids such as CBD can provide remarkable health benefits to the body.
They later discovered that different cannabinoids have different effects on the body. "Psychedelic intoxication," but CBD is not. In fact, CBD can actually counteract by reducing the psychoactive effects of THC, with a wide range of effects transmitted by other cannabinoids such as Cannabigerol (CBG) and Cannabinol (CBN). The types of cannabinoids form what is known as the "cannabinoid spectrum."
Exploring the Cannabinoid Spectrum
As you may know, the spectral range of the cannabinoid contained in a product determines whether a product is full spectrum, broad spectrum, or CBD isolate, so how exactly does it work? cannabinoids The cannabinoid from the cannabis plant is extracted to create a CBD product using methods such as CO2 extraction. As for other compounds found in cannabis plants are also extracted These include terpenes, flavonoids, and cannabinoids. (cannabinoids) other
CO2 extraction at low temperatures is a popular method today in terms of efficiency and safety. This allows the maximum amount of CBD to be "extracted" from the flowers, leaves and stems of plants without the use of harsh chemical solvents. In fact, what is always recommended That is, if a CBD product (whether it is a full-spectrum, broad spectrum or isolate) without CO2 extraction. Should avoid using because it will be dangerous. In today's unregulated markets, there are too many low-quality "manufacturers" that put the risk of consuming unsafe CBD oils with residues. HOW YOU PROCEDURE FOR THE "INITIAL EXTRACT" THAT IS THICKNESS Ultimately it depends on whether you end up with CBD isolate or full-spectrum CBD or broad spectrum CBD.
Composition and overall information of cannabinoids The cannabinoids differ depending on the species and classification from which they are extracted. For example, hemp, a plant classified in the Cannabis Sativa family, contains very little to no THC compared to the cannabinoids. Pennywise is an Indica family of cannabis strains with a 1:1 CBD to THC ratio, depending on the purpose of the end product whether companies Choose to extract from the cannabis strains that best suit their needs. And once extracted, the company can choose to refine the extract to purify it to contain the characteristic cannabinoids. What is contained in the pure extract determines whether the resulting CBD extract is a full spectrum, broad spectrum, or CBD isolate type. Now let's take a look at what each term means. and help illustrate the best recommendations for consumers.
In terms of scientific terminology "Extracting" (isolate) is to keep the compound in its purest form. This is made possible by separating the compounds. It is released from the environment and isolated from all other compounds. As mentioned above, CBD Isolate is the purest form of CBD, which is made possible by separation of other compounds CBD has been removed completely, including terpenes, flavonoids, plant parts and other cannabinoids, leaving only CBD. 
CBD Isolate is generally extracted from the hemp plant because of its very low to no THC content. However, do not confuse "CBD isolate oil" with CBD powder or CBD "CBD isolate powder" crystal flakes. " (CBD Crystal) In its purely natural state, real CBD is a white powder that looks like salt. Some manufacturers sell this isolate on their own.
In this case it is often labeled as CBD Crystals or CBD Isolate Powder. CBD Isolate Oil, on the other hand, is pure CBD powder mixed in a carrier oil – typically MCT oil, coconut oil or olive oil In a nutshell, CBD isolate Oil should contain no more than two ingredients: a CBD extract and a carrier oil.
What is Full Spectrum CBD
Full spectrum CBD is an extract containing all the compounds naturally occurring in the cannabis plant including terpenes, essential oils and cannabinoids. Other cannabinoids. The full spectrum of cannabinoids. The full-spectrum of cannabinoids, terpenes, and plant essential oils work together to enhance each cannabinoid's therapeutic benefits and properties. This is commonly referred to as the "entourage effect." The therapeutic effect of cannabis. This means that all compounds in cannabis, not just THC and CBD, can promote active cannabis to have a therapeutic effect most efficiently
It was previously believed that CBD isolate is more effective than full spectrum CBD, however, in 2005 this theory was debunked by a study by the Lautenberg Center. for general neoplasm immunity in Jerusalem Israel In the study, researchers found that test subjects given the full spectrum CBD extract experienced higher levels of relief than those given the compared CBD isolate.
In addition, the results showed that full spectrum CBD extracts showed better effects with higher doses, while the effects of CBD were maintained consistent with increased doses.
What is Broad Spectrum CBD
Broad Spectrum CBD is a blend of Full Spectrum CBD and CBD Isolate. found within the plant is preserved in the extract. However, as with the Broad Spectrum CBD isolate, THC is completely removed. Because Broad Spectrum CBD contains a variety of cannabinoids, it can provide a greater benefit in the medicinal cannabis effect known as the "entourage effect" without the risk of psychoactive effects of THC. 
From the above information, we have a better understanding of what types of CBD extracts are used in products and what they mean. What is the difference between the types and what are the differences between full spectrum CBD, broad spectrum CBD and CBD isolate? In the next chapter, Dr. CBD takes readers on a journey to learn which CBD products consumers should choose and how each has its advantages. and disadvantages